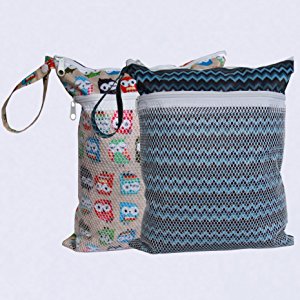 Material:
Our Stylish Wet Dry Bag made of Environmetal quality polyester surface and durable waterproof liner, easy to wipe clean.

Specification:
Large Pocket Size: 12.8 by 10.60 inches
Front Mesh Pocket: 9.84 by 10.60 inches
Weight: 150g

Package:
Yellow owls print wet bag×1
Blue stripe print wet bag ×1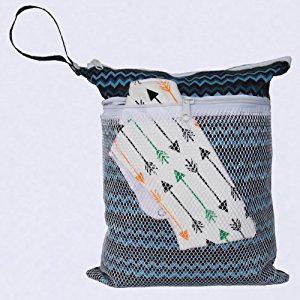 Your super cute and functional wet bag:

-Wet Dry Diaper Bag made of quality polyester surface and durable waterproof liner, resist most odors and stains, keeping smells in. Prefect for the diaper bag, swimming, daycare, etc.

-Two zippered pockets for keep the clean and dirty diapers separately. Throw your diapers, wipes, baby bottom products & dirty clothes in the large zipper pocket; mesh zippered pocket for dry, clean items.

-Reusable bag and machine washable. washed in cold or warm water. Gentle-machine it every 2-3 days.

-Perfect dirty diaper sack holder for diaper bag travel.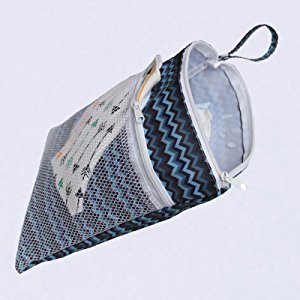 -Durable waterproof liner, perfect for carrying wet swimsuits, dirty diapers, soiled clothes.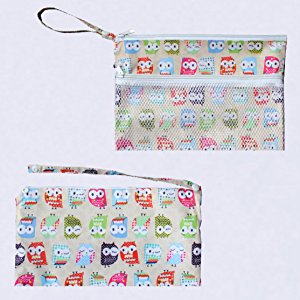 -Handy Handle. Comes with a snap handle so that you can easily pick the bag up or hang it.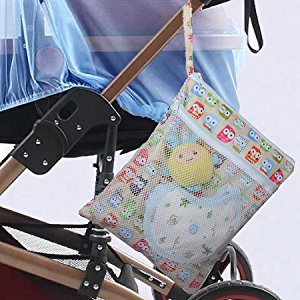 -Easily attach to any baby stroller, offer all day comfort.